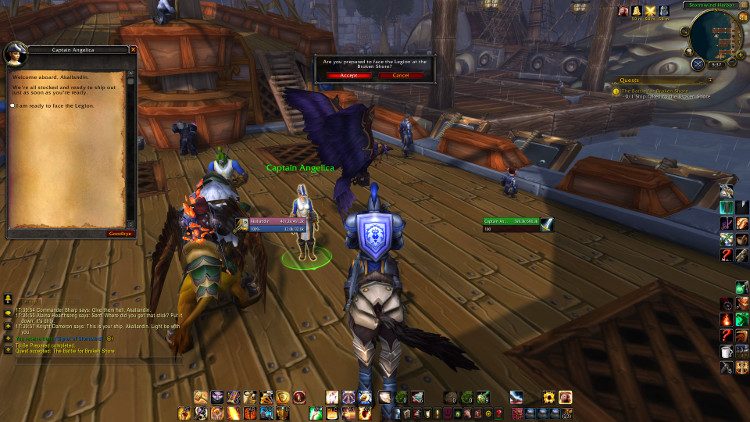 Leveling From 100 to 110 Quickly
It's that time again. The servers are blooming, the XP bars are empty, and your to-do list went from zero to full in literally a split second. The Legion expansion for World of Warcraft has arrived, and with it new stories and experiences. The story is REALLY good right now, but I hate leveling. I hit 110 on my Warrior in approximately 33 hours. That's grouped with a friend, going at a moderate pace, and an hour or two of idling in there.With my Death Knight, I hit a pace of a level every two hours for the last several levels. Leveling involved a lot of PvP, a lot of solo questing, and a little group questing. So now, just like my guide for fast leveling 90-100 in Warlords of Draenor, I have a new leveling guide for Legion. I spent three days taking notes of all my mistakes, and put them into a new guide. Here are my tips for leveling 100 to 110 as fast as possible in Legion! Just in time for the weekend!
Roll With Your Tank
While this isn't mandatory, it makes such a difference that it's worth noting. If you're stuck on which class to play first, I highly recommend a tank. Playing on my Death Knight as Frost, I was killing groups of mobs. Playing on my Death Knight as Blood, I was killing GROUPS of groups of mobs. I really struggled playing on my warrior, but whatever I couldn't handle as Arms was almost always doable as Protection. Tanks enjoy a (more) comfortable leveling experience!
Rested XP
Use and abuse your rested XP. It's like getting double the XP reward for doing things. You get rested XP by being in taverns, capital cities, and your class hall. Always log off for the night in one of these playes. You will gain 5% of your level every 8 hours. Also, be sure to log in and out of all your characters to start the rested XP timer. The rested XP timer doesn't start until your character's first login after the Legion expansion starts. To maximize your efficiency, swap to other characters when all rested XP is consumed. I missed a days worth of rested XP because I didn't know this. I randomly found out searching for something else.
Choose Talents Carefully
Some of classes get useful bonuses from talents. Specifically, look for movement speed and self healing talents. Movement speed just lets you walk and run around faster. Whether that's to chase down a mob, or run from a mob, every second counts. If you're not a class with healing capabilities, any little self-healing you can muster will be helpful. This may seem small but when you combine a lot of small changes, they aren't so small anymore are they?
 Go Solo
I've tried leveling alone, as well as with a friend. Solo leveling has been the fastest by far. I even tried leveling with different friends in case one was just slower than the other, but everyone was pretty much about the same. Unfortunate, but leveling by yourself is the fastest way to 110.
Read the Quest Stupid
Often I would just take a quest, then turn around and start killing whatever mobs nearby. Bad idea. Several minutes in I discovered I didn't need to kill mobs at all. My leveling buddy made the same mistake. Take the time to read the quest so you know what you are doing. Pro tip: When taking a quest, read the section just above the reward. That generally tells you exactly what you are doing.
Guild Standard
Time to dig it out of your bank! The guild standard increases your XP gains by 15%! It has a huge 10 minute cooldown, but still, something is better than nothing. I dug it out while Isle of Conquest was giving crazy good XP. 6500 XP became 7150 XP. Yes please!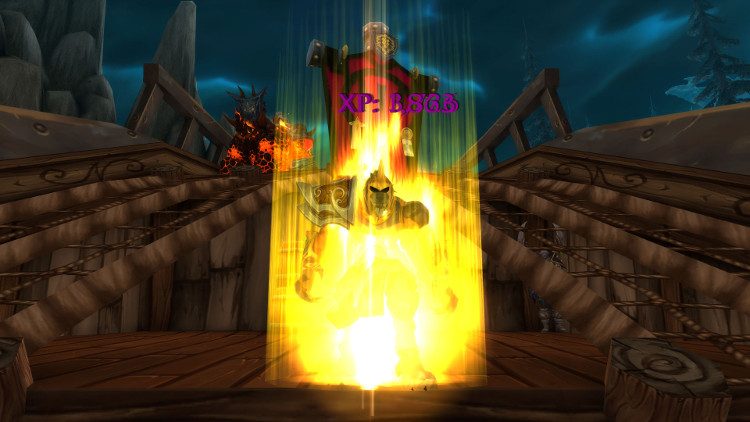 Do Area Quests Last
First off, area quests are NOT as generous as they were when leveling in WoD. Still, they are a good amount of XP for something you're mostly doing anyway. When you get to a quest hub, do all the quests first. THEN if you have anything left on your area quest, go back and finish it up. I made the mistake of finishing one area quest, only to learn there were more quests to do in the area. After finishing each quest hub, I generally needed ~15% more to finish the area quest, so you're probably safe to leave it for last.
Order Hall Missions
Starting at level 102 you will start to get missions in your Order Hall. These are your new garrison missions. Unlike garrisons however, they appear to be brimming with XP quests. I was literally able to chain XP quests for several days. I'd recommend doing only these XP quests at first. Resources will run thin if you start doing other missions, and you will run out easily if you are blowing through missions. The Blizzard Legion app is GREAT for leveling when you're on the go! It's practically a non-stop stream of XP, and it's free.
Loot all at once
If you're killing several mobs in a nearby area, don't stop to loot each one. Pull all the mobs to one place and kill them, then loot. You will save time by looting once. Make sure you have auto loot turned on in your game settings. Menu – Interface – Controls – Auto Loot
Kill Like The Energizer Bunny
Random trash mobs are your friend. Never let the XP stop flowing, even for a minute. If your partner goes AFK, find random trash mobs to kill. If you're waiting for a queue, go find random trash mobs to kill. Just keep killing and killing and killing…
Gathering Professions
If you REALLY wanted to burn up the leveling, you could take two gathering professions. Gathering resources gives XP, so at least take one.  Blizzard is supposed to be remaking professions so they are relevant again, so it's something you may eventually need too!
Do Dungeons Once
Another change from WoD, dungeons just aren't what they used to be. In Legion, you will get a quest to do a dungeon at the very end of a zone questline. It's worth doing the dungeon one time to finish that quest – but that's it. Running dungeons alone for XP isn't as efficient anymore.
For Variety, Just Add PvP
While PvP is definitely not as good as questing, Arena Skirmies are close. Even losing Arena skirmishes put me at a pace of 2 hours per level on my Death Knight. Who knows how good you could do if you were in a premade, winning consistently. I was moving slightly faster at 1 hour 50+ minutes per level while questing. As you can see the difference is negligible. Plus breaking up the monotony sometimes helps.
Final Notes For Leveling In Legion
It seems Blizzard is forcing players to quest as the best way to level from 100 to 100 in World of Warcraft: Legion. They hotfixed Isle of Conquest because it was giving too much XP compared to questing. As I mentioned above, there are significant XP nerfs to area quests and dungeons. Why they are doing this is anyone's guess. Who cares HOW people get to 110. The whole point is to do what you love doing. That's just my opinion though. Bottom line is, expect questing to be the fastest way to 110 in Legion right now. If you have any tips for getting to 110 quickly, leave them in the comments! I'll add them above. Good luck with your leveling and God speed!