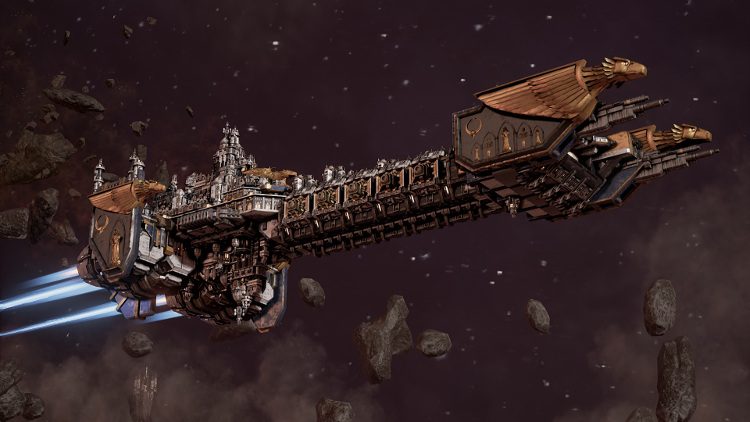 Capital Ship Combat in the Warhammer 40,000 Universe
I watched this game's release come and go. It seemed interesting, but I had never delved into the Warhammer 40k universe before, and money is always a big concern. Several people on my Steam friends list were playing it on and off though. I really didn't put much effort into researching it further until I couldn't play Company of Heroes 2 anymore. I wanted another RTS that didn't require peon and base management. Battlefleet Gothic: Armada definitely delivers in that department. Not only is it space ship combat, but capital ship combat! When I finally got into full research mode, I watched a stream on Twitch and was BLOWN AWAY. Pun intended.
General Information
Battlefleet Gothic: Armada retails for $39.99 MSRP, and it's always great to see games that don't follow the standard pricing model. More on that later. The game itself is an RTS game where you take control of a fleet of ships. The size of your fleet varies based on the faction you choose to some extent, but the rest is determined by points. Each ship has a value based on its configuration. If your ship is stock, it is cheaper. Upgrades will raise the point value of your ship. You start out on the smaller capital ships, and more, larger ships become available as you rank up. Your ships rank up individually too. If you lose one in a battle, there is a price to pay! There are also escort ships to fill out your fleet, and these are your fodder to sacrifice to keep your ships-of-the-line alive. They are in infinite supply, and there is no penalty for losing these.
Battlefleet Gothic: Armada has a campaign mode if you want a story experience, but I haven't touched that. I don't focus on PvE content for my creative channels. Steam users give the story good reviews, for what that's worth to you (73% overall rating as of this review). I've spent 19 hours so far fully immersed in the multiplayer mode, doing both PvE and PvP battles. Orks, The Imperium, Chaos, and Eldar are the four basic factions, with more factions being added via DLC with a $6.99 price tag. Space Marines, which I picked up too, and Tau are also available now. The game seems very complete. Matches go very quickly, generally less than 10 minutes in multiplayer. It's great for someone with kids who doesn't have that solid block of time to dedicate to gaming all the time/anymore.
What Makes It Fun
I mentioned being blown away before, and I wasn't kidding. The first thing that struck me about this game is just how beautiful it is. The graphics are just AMAZING. This is one of the most visually appealing games I have ever played. Even with a 4 year old graphics card, I can boost settings to ultra and enjoy the view. The surprisingly wide variety of game modes is also a big plus. I'm never bored of just doing the same thing, even if I don't particularly care for the mode I'm playing. Protect your space stations against an enemy fleet, defend your admiral ship while still managing your engagement, and stealing valuable data are just a few of the game modes available. I also want to give a little love to the price tag. $40 MSRP for a game like this is perfect. I picked it up for $20 during Black Friday 2016 sales, and other sales have ranged from 20% to 40% off.  If you want to help me out, you can click here to check Green Man Gaming which usually offer at least 20% off. Sales just make it an even better value.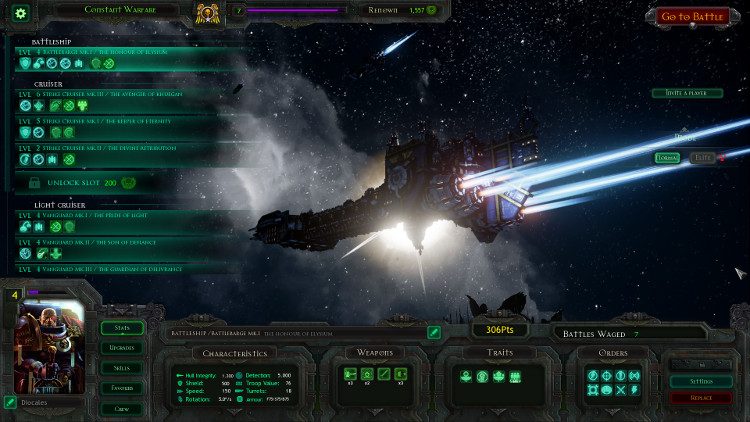 As I mentioned before, I like non-traditional RTS games where you aren't managing peons and base construction. There's no management once you get into the game, it's all focused on strategy and tactics. Battlefleet Gothic: Armada is really shines in this department. Angles, speed, and timing are such critical factors. I also thoroughly enjoy the capital ship experience. Finding a game I enjoy that focuses on capital ships is difficult, usually it's from the smaller fighter-scale perspective. Finally, I really enjoy the repercussions for losing your ships built into the game. You can't just drive your ships wildly into battle without consequences. When ships are destroyed, they need repairs, you lose the kill-streak stat on your ship, and gain no XP from the match it was destroyed in. You can speed up repairs, but there is a currency payment penalty required.
What Makes It…Not
I really don't have much to dump on about Battlefleet Gothic: Armada. I was a little disappointed at the scale. The trailer for the game really pushes the whole large-scale fleet action. I really want an enormous capital ship fleet versus fleet battle in a game. You can crank up the points in some of the games to a considerable amount, but not enough to satisfy anyone looking for Warhammer 40,000 space combat on a massive scale. Maybe a dozen ships if you play with a lot of the escort ships? A lot of this probably how to do with how great the game looks. You can't spam models all over the screen, particle effects blazing, and expect to maintain peak performance on a wide variety of machines.
The Bottom Line
This is probably the easiest game for me to recommend to date. If you like RTS games, Warhammer 40k/sci fi settings, it's a no brainer. I'm actually surprised it's not more popular. Battlefleet Gothic: Armada is not a twitch based game. Whether you spend those extra seconds maneuvering, or just reacting, it still feels like a fast-paced battle. It's not a good or bad thing, in fact it opens up the age range of players, keeping both older and younger gamers competitive with each other. I think this bodes well for the long-term life of the game. So if the game is good, and the price is right, then many battles await you in Battlefleet Gothic: Armada!