I think Solo was overall a good movie. Like Rogue One, the the Force took a backseat in the storyline. Jedi are awesome, but there's nothing like a good blaster at your side! There was obviously lots of character building for Han, like why he shoots first, and just WTF a Kessel Run is. The actor playing Han Solo, Alden Ehrenreich, did a good job, although at times I felt like he tried to talk his way through a little too much. Harrison Ford is a hard act to follow though.
SPOILERS AHEAD
The movie opens on Corellia, my favorite place in the Star Wars galaxy. When the lightning flashes, you can see what looks like a Victory Class Star Destroyer under construction, which I have a problem with. Corellia is famous for it's starships, but Star Destroyers are made elsewhere. Also Corellia isn't supposed to be Imperial occupied, but that's pre-Disney lore so I digress. It's hard to un-learn things that you've embraced, so little things like this are hard to overlook. Young Han being owned by a gangster was fitting, and I loved the diversity of aliens involved.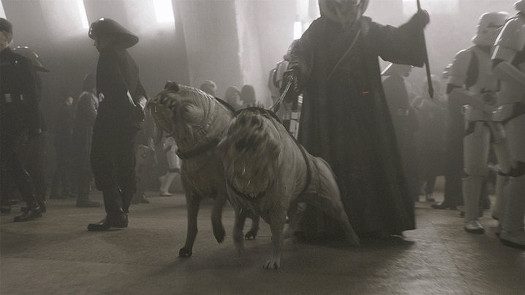 As Han escapes into the welcoming embrace of the Imperials, getting his Solo moniker was kind of dumb moment I thought.  I also couldn't help but wince at the 'Three years later' trope. The Solo movie is supposed to be a backstory, so why skip backstory during a movie about backstory? I would really have liked to see more of Han in the Imperial Navy. Han Solo is an excellent pilot, yet we really don't get to see how he got there.
Meeting up with Chewbacca was bittersweet for me. You know the two are going to become friends, so that kills a lot of the suspense, but I thought Han speaking Shyriiwook was silly.  Like several parts of this movie, the scene felt a little forced.
Meeting the mercenaries, and participating in the heist was all great. Lots of close calls, blaster fights, and daring stunts in an awesome setting. I'm a sucker for snow, but something about barren landscapes in general juxtaposed with high-technology feels Star Wars-y. I like that we lost some of our 'heroes' because Star Wars has an over-abundance of plot armor. A dash of Game of Thrones will do it good.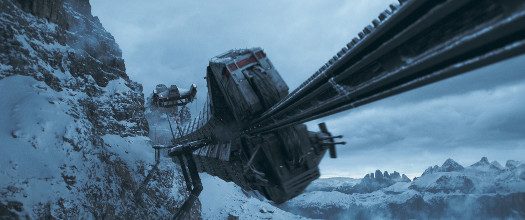 Finally getting to meet top dog Dryden Vos (Paul Bettany), and being reunited with Qi'ra (Emilia Clarke) is where the movie actually started for me. Another long-shot plan is formed, and the stakes are raised when Vos puts Qi'ra's neck on the line as well. Best of all, this leads to Lando Calrissian, arguably the best performance of the movie. You can hear Billy Dee Williams' swagger in Danny Glover's voice! I'm very much looking forward to seeing more of him in future movies. The famous sabacc games, and introduction of the Millenium Falcon were very well done I thought.  Phoebe Waller-Bridge's L3 was hilarious, and another great addition to the legacy of droids with personality. Her full designation of L3-37 was quite fitting I think.
The Kessel assault and rebellion was new, but I'm not sure I enjoyed it. I loved getting to SEE this infamous section of space, and just how a Kessel Run is made. I just feel like this was another forced scene in that it really didn't seem well guarded enough. The initial subterfuge seemed predictable. Also when Chewie ran off to help his family, I feel like it could have been done a little better. I got hit in the feels when Chewie left his family to stay with Han, and I think that moment would have meant a lot more if it had been elaborated on more initially. I think the escape scene from the black hole went on longer than it needed too.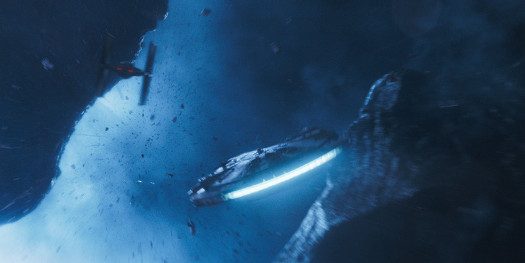 The final showdown with Enfys Nest was a surprise. Although for the longest time I thought they were called Infest-Nest. Again, mind-boggling to skim over backstory in a movie about a backstory.  Anyway, I knew at this point that Enfys Nest was going to be the Rebellion. The Qi'ra vs. Dryden showdown was a bit meh, though the Teras Kasi reference was awesome. Han gunning down Beckett in cold blood was also a surprise, and I think will end up going down as one of the highlights in the franchise given all the ruckus about who shoots first in A New Hope.
At first I wasn't sure it was Darth Maul in the hologram. I had to come back and start reading some spoilers before it clicked. I always thought killing Maul was a waste of an amazing villain. I feel mixed because I really don't see how they can bring him back (yes, I know they did in the Clone Wars cartoon, but I never watched that, and it's still a cartoon). I am willing to see their ideas though, because I really enjoyed what little I did get to see of Maul as a villain.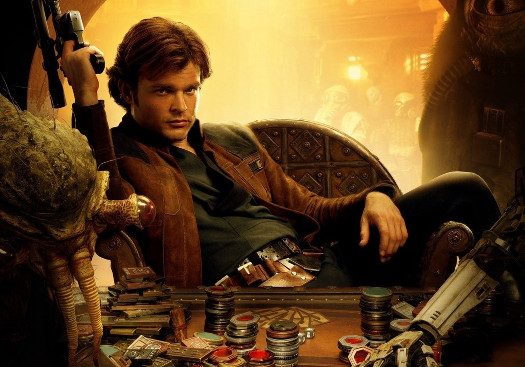 The final scene where Han wins the Falcon from Lando is another winner. I think it was at Maz's castle? I was a little disappointed when he and Chewie rode off into the proverbial sunset straight to Jabba. I feel like, again, you're cutting backstory out of a movie meant to fill in backstory. I wish they'd explore a little bit more of the unknown with Han Solo and Chewbacca before they rushed to meet their destiny.
I realize after writing this that I had a lot more problems with the movie than I realized. It's almost like they wanted Solo to be two different things. The start of a series of movies exploring Han Solo's history, or just in case it didn't work out, a single movie to tell the story of Han Solo. They tried to do both, and didn't really didn't do a remarkable job of either. Still, I liked Solo better than The Last Jedi for several reasons I won't go into. Suffice to say I feel like I've discovered a bias towards non-Force based movies. Han Solo is also my favorite character, which I think gives me a more critical eye, as well as rose colored space goggles. I'd place Solo in my top 5 favorite Star Wars movies. I most enjoyed the screen time Chewbacca got. While Han Solo may be my favorite, I'm quickly coming to appreciate what the wookie brings to the dejarik table.