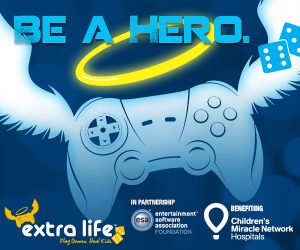 On Saturday, November 2nd, the Children's Miracle Network will be holding a 25 hour charity event.  Gamers across the world will be raising money by playing video games for 25 hours.  For more information about the event itself, head over to Extra-Life.org.
I will be participating in the event, streaming on Twitch.tv throughout the day on November 2nd.  Streaming schedule coming soon!
If you're interested in donating towards the Children's Miracle Network for this event:
The Children's Miracle Network is an international organization focused on kid's health issues.  It's for a good cause, and even small amounts help.
I will take requests if you want to see a certain game.  Games I will be streaming include:
League of Legends
Guild Wars 2
Star Wars: The Old Republic
Hearthstone
World of Tanks
Defiance
If you're interested in playing with me during the event, contact me in the comments below.  I also have a few codes for different games to give away at the event as well.
Update: The event is over, and I raised $62 this year.  Got a number to beat for next year, and I can't wait.