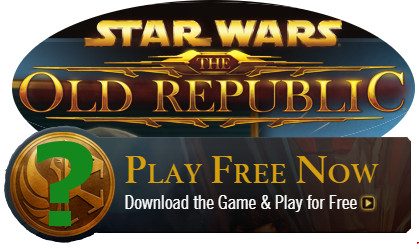 Free Account Restrictions For SWTOR
And How To Overcome Them
There's a long list of restrictions on free accounts for Star Wars: The Old Republic. A lot of that list is not even worth mentioning. I have been playing on Preferred Account status since February 2013, and have enjoyed every bit of it. Still, some free to play restrictions have to be dealt with, one way or another. Here are the big ones that I have noticed, and tips for dealing with them when applicable.
Credit Restrictions
The most noticeable restrictions are on credits. They are easily dealt with though, so don't worry.
Credit Caps
Free to Play accounts can access up to 200,000 credits at a time. Preferred Account players can only have up to 350,000 credits available. Anything above those limits goes into your escrow account. You can only access it by subscribing, or unlocking up to 1,000,000 credits at a time through the Cartel Market. Basically the credit unlock temporarily lifts your credit cap. Once you spend it, you're back to the normal 200k/350k caps.
Dealing with the credit cap will be pretty easy. You will be doing a lot of credit grinding at first to buy all your unlocks. That's lots of warzones, daily quests, and so on. All the unlocks you need should run you in the ballpark of 1,000,000 to 2,000,000 credits, depending on whether you want single or account unlocks. Once you have all those unlocks, you will have to work to find things to spend your money on. That's where I am now. I rarely do dailies because I don't need the credits. When I get close to my credit cap, I find something in my Legacy unlocks to buy.
Credit caps are somewhat beneficial. They do keep you from having to continuously grind daily hubs to amass more and more money just to save it. You can spend more time enjoying the game.
Transferring Credits
Free Accounts cannot trade credits, or send them in the mail. I strongly recommend you go for Preferred Status if you want to play this game for free. Preferred Accounts cannot send credits in the mail, but credits can be transferred through secure trade. Secure trading is just opening a trade window. Find a friend you trust, and just trade credits around. It is only a minor inconvenience. If both of you have Preferred Accounts, it's a mutually beneficial arrangement.
Keeping Reserves
It's easy to have a steady stream of credits in reserve. First, sell something big (100k-200k) on the GTN. Generally a stack of crafting materials works. When it sells, leave it in your mailbox. Build up another stack or item to sell and keep it in your bank. This way you will always have ~100k ready to go. When you take the credits from your mailbox, put another item on the GTN to replenish it. You can keep it in your mailbox for 30 days.
Conquest Rewards
Each week if you meet the conquest point requirement, you will get credit certificates. Two if your guild places top 10. These are single items worth 25k and 50k respectively. You can save these in your bank until you need them. It does take up some room, but they do stack! If you have the space it comes in handy.
Trusted Friends
As a preferred player, you can also have your friends mail you credits. Give a friend 100k, 200k, on up to 350k, and have them mail it to you. You can keep it in your mail up to 30 days.
Experience Reduction
The SWTOR F2P model does reduce XP gained by 20%. Essentially this means you'll have to level about 20% longer. For example, if it takes 100 hours to get to 55, it will take F2P players 120. This is just an example with made up numbers, but it should give you an idea of what you can expect. Now there are ways to mitigate this. Buying XP Boosts off the GTN for certain activities can completely mitigate the XP loss. Usually the XP boosts for Flashpoints and Warzones are pretty cheap, and readily available. If you don't want to spend the extra time leveling, keep an eye on the GTN for XP boosts. You can also check out my Power Leveling Guide for more ideas on boosting your XP gain.
Emote Restrictions
You are limited in the amount of emotes you can use. It's kind of a downer, but not $15 per month worth of a downer. I'm not a big emote user anyway, but you can buy some emotes off the GTN. New ones are added all the time through the Cartel Market, which also hit the GTN eventually. You can also just type /emote <action here> and it will come up with the orange text. You just won't see the animation.
Flashpoint Restrictions and Warzone Restrictions
You can only run 5 Warzones per character as a free account player. You can only get loot from 5 Flashpoints per character as a free account player, but you can run more. You cannot do Operations or Ranked Warzones at all with a free account without a weekly pass. You can buy weekly passes for unlimited warzones, flashpoints, and operations on the GTN. These weekly passes cost about 100,000 credits on average.
Global Trade Network
With a free account, you are limited to selling 3-5 items on the GTN at a time, depending on Free to Play or Preferred status. The easy fix here is to look for the under Cartel Market Unlocks on the GTN for the Galactic Trade Network unlock. This will let you sell up to 10 items at a time, which is plenty.
Cargo Hold and Guild Hold
Free to Play accounts will need to unlock access to their cargo hold (bank). Both free account types will need to unlock access to their guild holds. You can buy an unlock from the GTN to do this.
Guild Restrictions
Free to Play and Preferred players may join any guild. Preferred and Free to Play players may only be the guild master of an all free to play guild. This is mildly annoying, so choose your free to play guild mates carefully.
Other Restrictions Not Important
Don't get too hung up over any particular restriction. Restrictions are being lifted all the time, like the 5 warzones per week limit. Still other restrictions can be lifted with small purchases. For example, subscribing will now give you the Rise of the Hutt Cartel expansion for free. Becoming a Preferred Account player takes just one purchase from Cartel Market, for as little as $4.99. I can't urge you strongly enough to get Preferred status, it lifts so many restrictions. If there are any restrictions you feel are worth mentioning, please let me know in the comments below.
Which restriction bugs you the most? How do you deal with it?
Updated 10/2014