Good, Consistent Credit Farming in SWTOR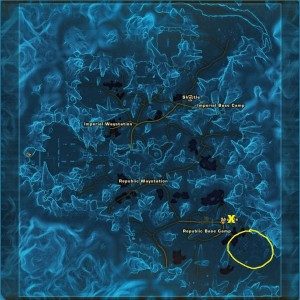 I was watching a Reddit thread about making credits in SWTOR. A Redditor claimed you could make 300k/hour just by farming mobs, and that dailies were a terrible way to farm credits. Well, i'm pretty proud of my daily quest hub guide. So in defense of her honor, and because if I could earn 300k/hour I wanted to know, I set out on yet another credit farming experiment.
To Ilum, And Beyond
The HEROIC 2+ on Ilum is where the alleged credit mine existed. So I hopped the first transport terminal to Ilum, and picked up the daily quest for the HEROIC 2+. at approximately 0932 hours, I was off and gunning for gold. Now admittedly I wasn't breaking any land speed barriers. I'd kill a group, take a bite of Chex Mix. Kill two groups. Send my companion off to sell the gray items. I wasn't speed pulling by any means, but I was going at a normal pace. The same pace i'd do dailies at. After about 10 minutes, I had finished the quest. From here I just ran group to group, slaughtering everything. After about 30 minutes at 1053 hours, I stopped. I wasn't making anywhere near 300k credits an hour. I was however, making about half that amount.
Analyzing The Returns
I raked in 88,761 credits in 30 minutes. That includes the daily quest, and all green and gray loot, and a small repair bill. That's 2959 credits per minute net profit. Not bad at all! And yet, there was still more. 2959 credits per minute beats every daily hub except Corellia. Without the daily quest, that's 2528 credits per minute. Still an impressive haul, considering it's just straight farming mobs. No quests, just tedious killing. As a consistent source of credits, that's REALLY impressive.
Pleasant Surprises
Naturally this makes me wonder about straight farming in other areas. Yavin IV comes to mind as a place where the mobs and their loot may return a substantial amount of credits as well on their own, outside of daily quests. If you're an avid credit farmer, this is pretty exciting stuff. It means you can build your credit wealth on a fairly consistent basis. Your time spent versus reward won't be much different from daily quests, and there's much less running around. It's also literally right next to where you zone into Ilum as a Republic character. For me though, it means something else. Two somethings, to be exact. First, I need to buy some stronghold decorations to distance myself from the preferred credit cap. Second, it looks like i'm going to be logging into SWTOR again.