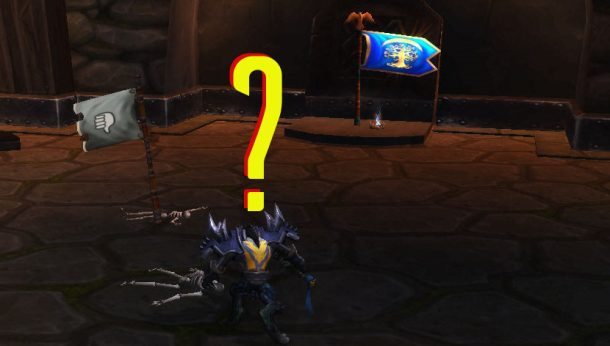 Update: Blizzard has given some clarification. You can check out my update here.
Blizzard May Have Already Shattered My Dreams For Legion
I have always thought World of Warcraft had the best PvP ecosystem. In fact, Warcraft PvP is where it all began. I can remember the exact moment I discovered my love for it. I decided to check out what battlegrounds were all about for the first time. Up pops Warsong Gulch.
The horn. The gates. CHARGE! FOR THE ALLIANCE!  AAAAAAAAAH!
No idea what I was doing, I ran to the middle. ATTACK!
ATTACK! ATTACK! ATTACK! ATT– dead.
I released, I was in the graveyard, waiting on the rez timer.
My hands were SHAKING. This was freakING AWESOME!!!!!!!!!
That's all she wrote kids. When the PvP ranks first came out, I disappeared from my guild for three months to get as high as I could. My PvP addiction was born, and it was battlegrounds, world PvP, and Arenas for the next 6+ years.
Remembering that moment so vividly is what makes what I have to share with you so sad.
Blizzard Is Regressing It's PvP Design
I have always seen World of Warcraft development as moving forward. Single server PvP queues to multiserver queues, dynamic questing that changes the landscape with your progress, and now shared realms where you can group up with any friend on any server. Well, in a recent post to the Dev Watercooler series, they mention two huge changes to PvP that are not only backwards-thinking, but shocking. These changes are to how gear is obtained and what stats you can get on that gear.
RNG Gear Drops
Gear is now going to drop randomly at the conclusion of your PvP battleground or Arena. You could get the same gear twice, or even five times. SWTOR had this mechanic initially back in 2012. People absolutely HATED it, so it was changed in their first major PvP update. Blizzard states that they want the same emotional highs and lows PvE players get while obtaining their gear. PvP and PvE have always been, and always will be, two different experiences.  They are completely opposing styles of gameplay, so why would you try to reward players the same way? Some people like working for a paycheck every two weeks, some people like getting paid through commission, others like contract work. It's different kinds of pay for different kinds of work. Unfortunately, this is the lesser of these two evils.
Gear Disparity Among Players
Back in – I don't know when – better ranked Arena players had better gear. It mystifies me to this day why you give better skilled players, better gear. In PvE you get better gear to defeat tougher challenges. In PvP, if you're the top dog, there is no tougher challenger. Luckily, World of Warcraft went away from this absurd mechanic. In PvP, everyone has the same gear. Skill now determines the better player, not gear. Until Legion hits, that is. Blizzard is re-instituting this archaic practice. This is the change that really hurts the most. I could live with RNG, but now if I don't rank high early in the season, everyone above me is going to have better gear than me. It's an uphill battle for anyone who can't do Arenas/Ranked BGs non-stop, for hours on end every day.
The Reaction From Players
Whenever I disagree with a development direction, I always wonder if maybe it's just me. I'm definitely not, and my followers are LEGION. 782 comments currently sit on the article, more than 30 of which were added while I was writing this. More than two weeks later and it's STILL getting attention. By and large, the vast majority of players commenting do not want these changes. Perhaps this is just the vocal minority though right? Well let's take a look at who likes the changes. Facebook likes currently sit at 29. Again, this is after two weeks. Let's compare this to something pretty tame. The Warcraft movie posts wouldn't really be fair because I think we all collectively are excited about that. Let's take the pretty boring post on Extended Draw Distance coming to the game posted not a week ago yet. That has 40 Facebook likes already. There's 135 comments, which I am not even going to check. More people are excited to see further in game, than they are about the upcoming PvP changes. That's sad. Really, really sad.