A Wave Styled World War 2 RTS
I don't know how, but I forgot to review Steel Division. As I was reading through all the news about the upcoming free DLC, along with the Second Wave DLC, it just kinda dawned on me. This game comes from the makers of the Wargame franchise, but I've never played any of those either. This was a completely new experience for me, and I've enjoyed over 58 hours to date. This is easily one of my top three favorite strategy games to date. As usual, I never touched the singleplayer campaign, and went straight to multiplayer.
Steel Division: Normandy 44 Breakdown
For just $39.99, you can own one of the best World War 2 RTS titles out there. Steel Division: Normandy 44 is from Eugen Systems, the creators of the Wargame franchise. You get to play from the division level, commanding one of the historical armies that battled in western Europe during 1944. That includes the United States, France, Great Britain, and Canada on the Allies side, facing off against Germany on the Axis. Each country has multiple divisions from mechanized, to infantry, to mechanized infantry and more. The Second Wave DLC is coming soon, and is adding several more divisions for various countries. There are several different maps to play on, forcing you to make choices on what you bring and how you fight. Not every map will favor armor, for example. The standout feature of the game is it's battle phase system. This is a three phase system where you are giving a strict point allowance to bring forward troops. Each phase that allowance can change based on your division and its historical performance. Some divisions may start with lots of points and scale down while others may start small and build up.
What Makes It Fun
Wow. Where do I even start? Probably my favorite part about this game is it's adjustable scale. You can scroll in and out of the map to whatever scale you want. You can either watch the battlefield unfold in a series of icons, or scroll all the way in to watch your MG mow down enemy soldiers as they try to cross an open field. An adjustable view is phenomenal for those games where the fixed view is too close. The 10v10 games are AMAZING! They are HUGE, chaotic, suspenseful, and incredibly fun! I like the variety of different divisions. If you want to play an infantry division, paratrooper, or even with tanks, Steel Division has it all. I also am madly in love with their battle phase system. This actually starts while you're setting up your forces, and deciding which phase you want troops and equipment to start arriving. During games, it gives that feeling of 'desperate hope', trying to hold out until reinforcements. When your troops come under attack, just before the next wave is able to deploy, there's a rush that follows as reinforcements arrive to push back enemy forces! Another great feature is the sound effects; It actually sounds like a warzone. The machine gun fire, artillery, planes – it stands out more to me than in other games. It also increases and deafens as you scroll in and out, which is a nice touch.
What Makes It…Not
I only have one complaint about this game. Not all of it is the fault of the game either, so I wouldn't weigh this as a full strike against Steel Division. When you get into the 10v10 multiplayer mode, whichever team drops the most player connections loses, and there is generally at least one or two. The team that wins is generally decided immediately. This is quickly followed by other players tilting and/or rage quitting. This of course leads to a 10 versus 7 or 8 if you're lucky. The connectivity is hard to blame on the developer completely, some people just have terrible internet. The tilting is completely on the shoulders of the players though.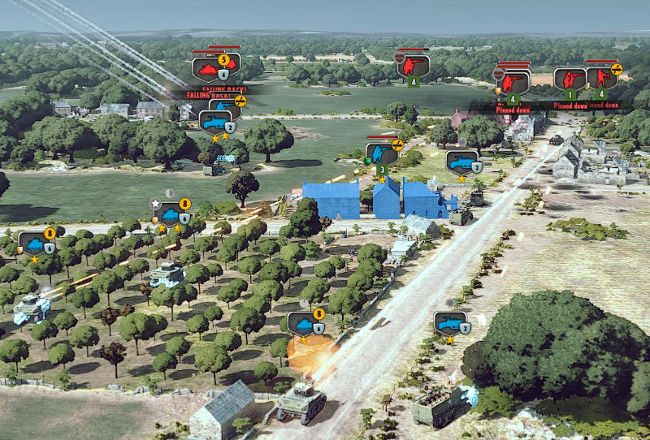 The Bottom Line
A lot of Steam reviews complain about game balance. I never really noticed a huge problem personally, though I did mostly play co-op versus AI. Those medium AI units were pretty difficult, let me tell you! I have noticed lots of balancing in the patches that have come out since official release, so there may be something to it. I still recommend the game for anyone wanting something fun or just to play casually. If you're looking for some competitive hardcore multiplayer, this probably isn't the game for you. If they put out Steel Division: Pacific tomorrow, I'd buy it based on this game alone. While they have a ways to go given that the paid DLC has just started rolling out, a Pacific (or really any other version) is something I really hope to see some day.