There's a few games that have all managed to present an opportunity to play together. A couple are at REALLY good prices, and a couple are hitting a big release with some new content. I've outlined them below with some quick thoughts of my own. I've provided affiliate links, so I do get a commission if you buy through them. Let me know here, on stream, or Discord if you pick any of them up so I know who to look for!
Gloria Victis
This is a medieval MMORPG that is buy and play, no subscription fee. It's $4.36 in the Humble Wargamez Bundle currently, and the cheapest price I have ever seen Gloria Victis go for. I've been following it since just before launch, and I've mentioned it several times here on my website. The graphics and sound are great, and it has crafting and PvP involved. I don't think the player base is that big, but I think it'd be worth the money even if we only got a small group going.
Destiny 2
A Sci-Fi MMOFPS, which is an MMORPG in FPS view with an emphasis on shooting. It's just $12 in the Humble Monthly, and is the cheapest price for Destiny 2 anywhere right now. The reviews are not great about this game, but a lot of it is due to lack of content. For $12 (plus the other games you get from the monthly) I can't imagine there isn't enough content. The game looks beautiful, and I'm only level 12 so it'd be really easy to catch up if you jump in now. No subscription fee, but there are two expansion DLCs out. They will cost extra, but might be worth it if you end up enjoying the game enough.
Conan Exiles
I played Conan Exiles when it launched into Early Access, the devs were awesome enough to give me a key. It is a survival game (Think ARK) set in the Conan universe. I clocked in over 100 hours in game! I really enjoyed the building aspect, and that is probably what I'll spend most of my time doing in game. MSRP is $39.99 on most sites, but you can get Conan Exiles with a 10% Discount using the code MAY10 over on Fanatical. (Fanatical is NOT a grey market site, it is an authorized Steam key re-seller.) Conan Exiles is a great game, and I'll also be doing a giveaway of a key or two provided by the devs on my stream Friday May 11, 2018!
Space Hulk: Deathwing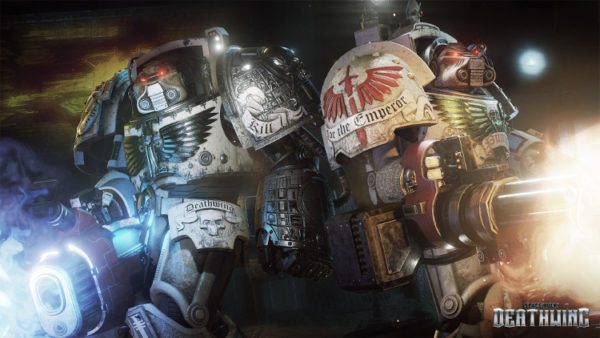 This game is a Left4Dead type horde shooter set in the Warhammer 40,000 universe. It is definitely better than the reviews let on. It had a bad launch, but has improved greatly since then. It does take a little time to find a group, but I've always managed a full group. MSRP is $39.99 on most sites, but the best price for Space Hulk: Deathwing is with a 10% Discount using code MAY10 over on Fanatical. I do expect more sales closer to/on release day. I really enjoy this game, and am looking forward to the extra customization features on May 22nd. The majority of the enhanced edition features are already out for PC. I'm hoping to do a full playthrough on stream with viewers.
Update: 60% off sale in the Humble Store!
One More Consideration
I'm looking really, really hard at State of Decay 2. It's a 3rd person arcade style survival game. From the little gameplay I've seen, it looks a lot like the original State of Decay, but has multiplayer co-op in it! It's only $29.99 in the Microsoft store, but no Steam unfortunately. The good news is, console and PC should be able to play together! So if you have an X-Box, you can still join me. I haven't pre-ordered yet, but once I see more about how the co-op play is, I'll make my decision. There's also a free trial available if you want to try before you buy from what I've read.