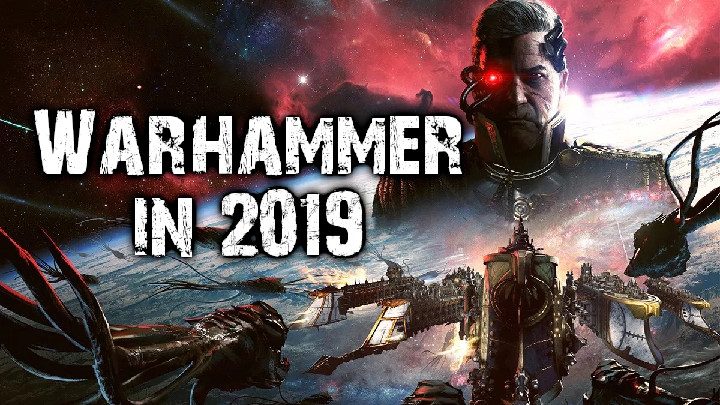 Battlefleet Gothic: Armada II is a real-time strategy game with the space fleets of the 40k universe. You can choose from the Imperial Navy, Space Marines, Adeptus Mechanicus, Orks, Eldar, Dark Eldar, Tyranids, Chaos, and more. Nearly every faction is represented in the game. There are three story campaigns available, which also have a co-op feature. The multiplayer has both skirmishes and ranked play with 1v1 and 2v2 brackets. The game is being developed by Tindalos Interactive, and published by the familiar Focus Home Interactive.

Release date: 1/24/2019
Warhammer Quest II: The End Times is a turn based strategy dungeon crawler set in the Warhammer fantasy universe. Battle across different regions, settlements, and dungeons with your party. You can select from 12 different heroes to build your perfect party. Warhammer Quest II: The End times is being developed and published by Perchang.

Release date: 1/30/19
Warhammer Age of Sigmar: Champions is one of two card games for Warhammer. Champions is free to play, and set in the Age of Sigmar Era. Both PvP and versus AI options are available in game. You can choose from the four grand alliances: Order, Chaos, Destruction and Death. Warhammer Age of Sigmar: Champions is developed and published by PlayFusion.

Release date: 2/19/19
The Horus Heresy: Legions is the second of two card based games set in the Warhammer universe. Legions is free to play, and takes place during the Horus Heresy era. Build your own Legion of Space Marines as you explore the origin story of Warhammer 40,000. You can play in PvP and versus AI. The game is being developed and published by Everguild Ltd.

Release date: 3/28/2019

Warhammer: Chaosbane is the equivalent of a love child between Diablo 3 and Vermintide 2. This Warhammer game is a top down dungeon crawler, where you play as a – stop me when you've heard this – Soldier of the Empire, a melee master Dwarf, and an Elf Huntress. A fourth class is actually kind of new, it's a high elf wizard instead of the human version. You can play solo or online with up to four players in co-op. The game is being developed by Eko Software and published by Bigben Interactive.

Release date: 6/4/2019
Necromunda: Underhive Wars is a turn-based tactical game with RPG elements. Experience street gang combat set in the Warhammer 40,000 universe. There will also be a conquest mode for a more 4x experience. The game is being developed by Rogue Factor, and published by Focus Home Interactive. It will release on PC, PS4, and XBox.

Release date: 2019
Warhammer Chaos & Conquest is a real time strategy game set in the old world. You play as Chaos, competing against other players to build up your fortress in an attempt to defeat the Empire of Man. It will be free, and also available on Google Play, so it may be a mobile crossover. Warhammer Chaos & Conquest is being developed by Hunted Cow Studios and published by Tilting Point.

Release date: 11/18/2019
Unknown Warhammer Games 2019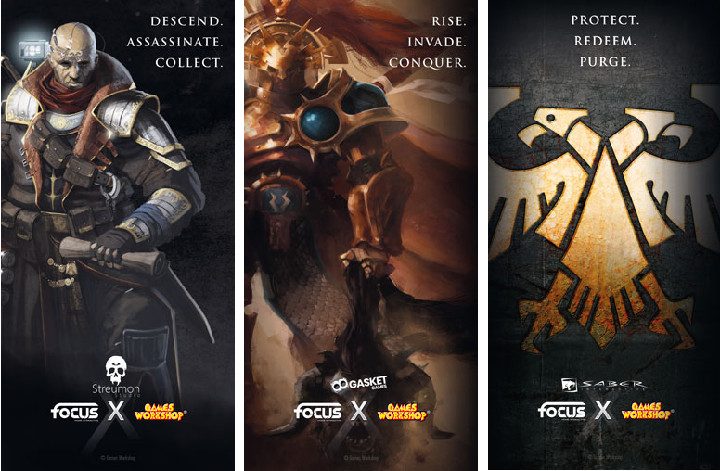 According to a recent press release from video game publisher Focus Home Interactive, there are three surprises for Warhammer fans yet to be announced in 2019. The first image featuring Streum On Studio is related to a new shooter game. The second image from Gasket Games is a strategy game, and is being created by some of the developers from Dawn of War and Homeworld: Deserts of Kharak. The final image from Saber Interactive had no other details beyond being a Warhammer IP.
Upcoming Warhammer DLCs for 2019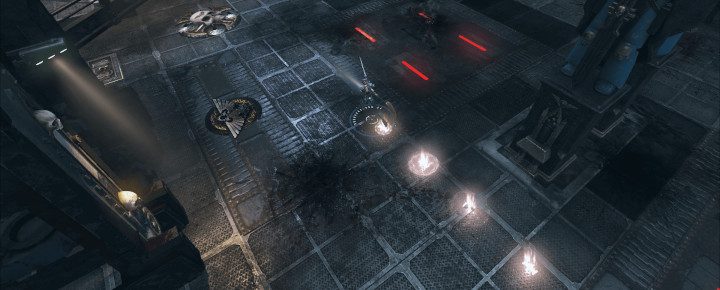 Warhammer 40,000: Inquisitor – Martyr is on a bit of a rampage, having released 7 DLCs in the first 3 months 2019. These DLCs include cosmetic items like footsteps, small space station type areas to explore, and a special quest that rewards a cosmetic item. Prices range from $1.99 to $2.99 USD. Martyr is another Diablo 3-esque top down experience, but this time set in the Warhammer 40k universe.
Warhammer 40,000: Gladius
Tyranids – Release Tyranids upon the galaxy! Play as a 'nid in this amazing 4x sandbox game, you can click here for my review of Gladius. Releases 1/15/2019.
Chaos Space Marines – New playable faction! Spread heresy across Gladius prime! Releases 7/10/2019.
Fortification Pack – Adds new defensive units to Gladius for each faction. Releases 8/17/2019.
Craftworld Aeldari – Adds the Eldar faction to Gladius. Releases 11/12/2020.
Total War: WARHAMMER II
The Prophet & The Warlock DLC brings a first to the Warhammer II franchise, LIZARDMEN DLC FINALLY. Skaven also get a new legendary lord and various units. Releases 4/17/2019.
The Hunter & The Beast is a DLC pack with Empire and Lizardmen Lords. A focus on ranged units, as well as Dread Saurians, the largest beasts to walk the world of Total War: Warhammer! Releases 9/11/2019.
Gor-Rok is a free DLC with a veteran Saurus Warrior.
Tiktaq'to is a free DLC with a Lizardmen aerial Lord unit.
Warhammer 40,000: Inquisitor – Prophecy is a stand alone expansion to Inquisitor Martyr. In Prophecy, you play as an Inquisitor Tech-Adept. The Martyr story will continue with three new chapters, with one chapter just for the tech-adept. There will be new environments, enemies, and game mechanics. Prophecy will launch May 28 2019 for $24.99 on Steam. Previous Inquisitor Martyr owners will get 30% off for a limited time.
Warhammer: Vermintide 2 – Winds of Magic is the first expansion for Vermintide 2. The Beastmen join the end times, as does another game mode and another difficulty level. Our heroes are given more weapons and more levels to improve their chances of victory. Releases 8/13/2019.
Warhammer 40,000: Mechanicus – Heretek is the expansion to Warhammer: Mechanicus. A new story explores the cause of civil unrest among The Caestus Metalican during the Silva Tenebris campaign. New missions, new troops, new environment, and more. Releases 7/23/2019.